I'm often made fun of for not being very good at the internet. By that I don't mean being incapable of Googling or not knowing how to properly use email, but that I often pick out what I think are hilarious and timely gifs or videos only to be told, mockingly, that these things are in fact ancient. I endure this steadily from family and friends, figuring it's better to be good at tangible, real life things anyway.
That being said, did you guys know that cats are pretty much the internet's favorite things? And since books are our favorite things, I figured if we combine the two, then I'll have rocketed this blog up into cool things on the internet.
Cats and books aren't a new phenomenon, really. Pets in general have often played a central role in literature, and are commonly even the complete focal point of some of the most popular or tear-jerking literature out there. We had a reading teacher in sixth grade who cried reading aloud every time we got to the point where one of the dogs died in Where the Red Fern Grows, no matter she'd been teaching the book for over a decade.
Characters like the Chesire Cat have grown into common vernacular references, his grin in particular used to symbolize untrustworthy folk. Those Harry Potter fans among us (and get out if you're not) will know that Hermione's Crookshanks played a vital role in the series—and was probably forced to spend a whole lot of time around massive stacks of books as well, considering his owner's penchant for research.
I'm pretty sure cats themselves can't actually read, but here are a few who would rather spend some time with a book instead of being featured in one.
There's this cat who will soon take over the world:
This guy, who is probably more pretentious than I could ever hope to be:
This one who would really prefer you leave him alone while he's reading:
He clearly forgot that it's almost impossible to read in the sunlight without blinding yourself if you aren't wearing sunglasses:
This kitty looks scandalized, and I'd like to know why: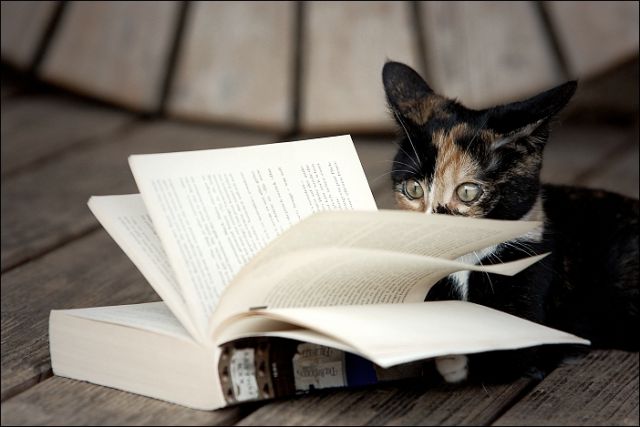 Happy Friday everyone, get some reading in, pet a cat (or actually, don't. I don't really like cats), and pretty much, just enjoy your weekend!